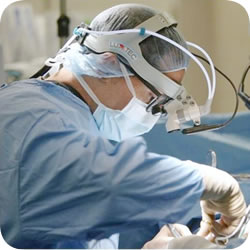 At Bianco Brain and Spine, we strive to provide our patients with the latest minimally invasive neurosurgical techniques that are associated with less postoperative pain, less discomfort, and a quick return to normal activities. We provide spine and brain surgery in Arlington Texas.
We have a unique approach to our brain and spinal patients' care. We tailor our treatment plan to the specific needs of the patient. Many individuals with the same neurosurgical problem have different co-morbidities, family needs, professional needs, and life style needs. At Bianco Brain and Spine we consider the individual patient and his/her multifaceted lifestyle before making clinical recommendations.
At Bianco Brain and Spine, we work hard to meet the needs of busy patients, as well as the needs of referring physicians when scheduling an appointment.
Our staff is extremely dedicated in providing the most compassionate, respectful, and honest medical experience.
We strongly believe in the strength of patient-physician relationships, and we work relentlessly to maintain your satisfaction with the care that we provide to patients from Arlington e the DFW area.
Dr. Bianco is board certified by the American Board of Neurological Surgery. He completed a European residency program in Genoa, Italy and an American residency program at Wake Forest University in Winston-Salem, NC. He spent a year in Pittsburgh completing a fellowship.
Dr. Bianco uses the latest endoscopic, minimally invasive skull base, and minimally invasive spine techniques. It is very seldom that you find the entire spectrum of spine and brain skills in a single surgeon's repertoire. Dr. Bianco is actively engaged in developing novel spine techniques and instrumentation to minimize patient pain and discomfort after spinal surgery. Furthermore, he is actively engaged in brain tumor research.
Dr. Bianco has pioneered many brain and spine techniques. It was during his medical school 20 years ago that he made the firm decision to dedicate his professional life to the development and implementation of minimally invasive brain and spinal surgical techniques that have made a significant improvement in patient outcomes and overall surgical satisfaction. He was one of the first in the world to write a thesis about neuroendoscopy in 1995. Dr. Bianco's philosophy is to provide the least invasive approach while achieving maximum success during a brain or spinal surgical procedure.