Bianco Brain & Spine
2705 W. Arkansas Ln.
Dalworthington Gardens, TX 76016
Phone: 817.701.4253 or you can call us Toll Free at 1-877-Bianco4 (1-877-242-6264)
Fax: 833.464.5416 or 817.701.4258
Hours of Operation
Monday-8am-5pm
Tuesday-8am-5pm
Wednesday-8am-5pm
Thursday-8am-5pm
Friday-Every other Friday we alternate between 8am-5pm and 8am-Noon.
Please note-we are closed for lunch from 12pm-1pm daily. Our office is completely closed and our answering service will take all calls until we return.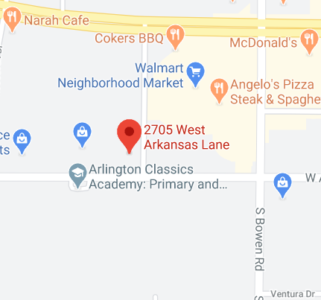 Contact Us