Bianco Brain and Spine Staff in Arlington, Texas
Every member of our neurosurgical team truly believes in treating patients as though they are family. Our morals combined with our educational backgrounds set us apart from any other neurosurgical offices of privately practicing physicians. We guarantee you will not be disappointed with our service. Remember, healthcare is a freedom of choice and we want you to choose Bianco Brain and Spine.
---
Lauren, Front Desk Receptionist 
Lauren is one of our front desk receptionist, and comes with a strong background in helping others. She excels in going the extra mile and always has a smile on her face. Lauren is always a great team player and loves helping patients and other employees. She has two wonderful children, who keep her very busy, and a very large family who she is very close to.
---
Nikki, Patient Referral Coordinator 
Nikki is relatively new with Bianco Brain and Spine but has already made quite an impression on our patients. She is most likely the first person you will talk to once you see us as a patient. She is very efficient and fast in getting new patients scheduled for an appointment. She loves anything to do with comedy and she likes being outdoors-gardening, and hiking. She also has two beautiful children.
---
Sandy, Insurance Verification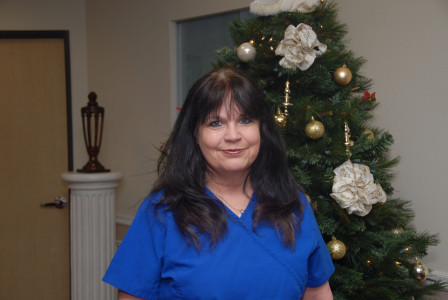 Sandy handles all insurance verification and surgical authorizations in our office. Sandy has many years of experience and is one of the top in her field. She is very dedicated to her job and strives to make sure our patients insurance needs are met in a timely manner. She is proactive and will let a patient know of any insurance complications, deductibles, or out of pocket expenses. She is one of the key coordinators of care in the office. She is a proud Native Texan and is a new grandmother. She loves living in the country with her wonderful husband and animals.
---
LaRhonda, Insurance Verification
LaRhonda has been with Bianco Brain and Spine for a short time but has been in healthcare for a long period of time. She comes from up north and is happy to now live in Texas.  She currently handles insurance authorizations and is training to learn insurance authorizations as well. She is a very active member in church and is also a counselor to her church members as well as members of the community. She believes in faith based practice as well as medicine which makes her a great addition to our team. 
---
Kari, Registered Nurse
Kari is one of the nurses for Bianco Brain and Spine. She assists the PA and Doctors in Clinic, rooming patients, answering patients questions and scheduling patients for surgery . Kari is not a native Texan, She is from California but we try not to hold that against her. Kari is the proud mother of 1 daughter, 2 sons a new granddaughter. In her free time Kari loves spending on her little farm with chickens, dogs, cats, and other animals as well as spending time with her kids and granddaughter, or watching her husband play Sled Hockey.
---
Cher, Registered Nurse
Cher is one of four nurses we have at Bianco Brain & Spine. She comes from a strong medical background and worked as a tech and a nurse for Cook Children's. She loves helping others and while babies and children hold a soft spot in her heart, she decided to work with adults. Our current patients praise her highly and have said they love her sweet demeanor and kindness. She currently has one son and a wonderful husband who keep her on her toes.
---
Brandi, Registered Nurse
Brandi is the third nurse at Bianco Brain and Spine.  She has been a nurse for over 10 years and has worked in home health and several hospitals. She has a broad range of experience and is quick on her feet. She is dedicated and always willing to help the team. She has worked with Dr. Bianco since 2014 and was very happy to join our practice.  Brandi works part-time as she has three daughters who keep her very busy.
---
Caralee, Office Manager/RN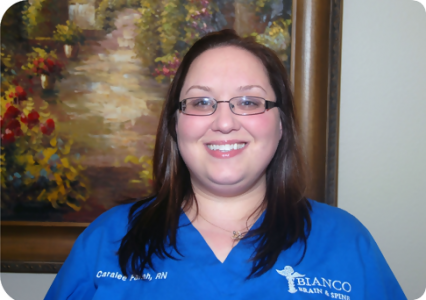 Caralee previously worked at Arlington Memorial on the neurosurgical/orthopedic unit as a patient care tech for 10 years, and a nurse for 3 years.  She received her Associate Degree in Nursing from Tarrant County College. She is the office manager as well as one of the nurses who take care of patients. She has always loved interacting with patients and loves helping the community. She strives to make sure both the business and patient sides of the office run smoothly, and that the patients are always satisfied with their care. She loves spending time with her family and friends, reading, and scuba diving.